Volunteer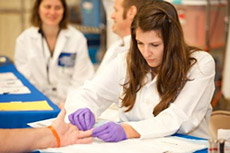 Why Volunteer?
We welcome volunteers of all professional backgrounds to help with the exhibit. We provide training in research ethics and on the various research stations – from taking body composition measurements to conducting a fingerstick sample for blood glucose! We also offer volunteer opportunities to students under 18 years old.
Interested in the public health, nursing or medicine fields? We offer amazing training opportunities to experience these areas and more.
How you can volunteer
If you would like to volunteer at one of our fairs or be on our mailing list, please complete a simple registration form.