Volunteer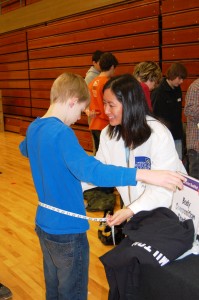 Thank you for your interest in volunteering with Let's Get Healthy! We welcome all volunteers regardless of age or experience — just fill out this form to tell us a bit about yourself.
Our next health fair is:
Saturday, August 12th at the Asian Health and Service Center Annual Health Fair in Portland, OR.
We will be providing blood glucose, cholesterol, and blood pressure screenings in Chinese, Korean, and Vietnamese! The health fair is 11am-4pm on Saturday, August 12th.
AHSC is located at 3430 SE Powell Blvd, Portland, OR 97202
---
Please use the form below to volunteer for this fair!
For more information about Let's Get Healthy!, check out our video, visit our website, or follow us on Facebook.
You will receive an automated confirmation message once you successfully submit this form. If you have any questions, please contact Leigh Coppola (coppolal@ohsu.edu).